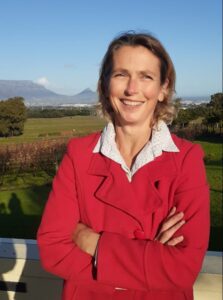 From the 1st of July Mariska de Beer will take over the helm as CEO of SCOUTS South Africa. Behind the vast experience in the management of non-profit organisations, campsites, and accredited training facilities, we found a woman with a passion for youth development, a deep routed understanding of the values we live by, and a love for the outdoors and the lessons it brings for personal growth.
"I'm a pioneer. My personal mantra is to live life to the fullest" explains Mariska. "I grew up in a small farming community called Adelaide in the Eastern Cape. Playing outdoors, doing sports, hiking, and camping were my way of life back then. Holidays included caravan trips around the province, more specifically along the East Coast and East London. The outdoors was and still is my happy place."
After Matric Mariska joined the Women's Defense Force in George and after a year left to commence her studies. "I graduated with a diploma in Sports Administration and Marketing. Since then, I have led a bit of a nomadic lifestyle and have worked for charity organisations around the country. After 15 years of managerial experience my driving force has remained the same. I look at what people can become, I look for the potential in them, and I strive to help them get there. For years I saw how people with disabilities were left out. I then made it my mission to ensure they would be included and were given the opportunity to grow personally and in life.
This desire was only enhanced when I started working as a youth worker at a school for the Deaf in Worcester, from there I later joined the Association for People with Disabilities (APD) where I assisted in creating personalised active learning programmes.  The young people I met there were not being pushed to learn new skills or better their abilities. They received the basic care, such as being washed and fed. After introducing the active learning programmes, I remember this one young child who learnt how to stand up on their own. The joy from that child, and the sense of achievement I felt when seeing this, was great!
Personally, I have not been a Scout, but I was introduced to Scouting by Mr. Garnet de la Hunt in 2006 when I was working with the Scripture Union. He had wonderful things to say about the Scout Movement. As part of the Sports Ministry, I managed a campsite and organised camps where abled and disabled children camped together and learnt from each other.
I think I am drawn to Scouting because of how inclusive it is and what it stands for. Scouting is not just a programme with actions to tick off, it is a way of life. The values such as honesty, integrity, and respect, combined with one's duties towards ourselves, our country and our God really resonate with me. I think in today's world the values and skills building that Scouting offers is really needed. There are many communities where this is not modelled to children and where Scouting could play a role in helping young people achieve their true potential. In fact, I would dare to say that Scouting is essential to the development of responsible citizens in our world today", she adds.
"Being outdoors is my happy place", continues Mariska when asked about the value of outdoor exploration. "There is nothing fake about the nature we are surrounded by. The outdoors is where we find reality, where we are able to be ourselves and value the small things that are real and beautiful in this world. The drive of Scouting to educate young people about conservation can be lifechanging and have a huge impact for everyone in the years to come. Finding the balance between being outdoors and technology is key for us all to lead balanced lifestyles.
Some of my favourite memories were made whilst exploring and experiencing outdoor adventures. For example, I used to organise camps for children who are blind. One year we went to Moolmanshoek in Ficksburg in the Free State. It was a beautiful place with wild horses and mountains. We took the children abseiling. In order to experience what they were going through I wore a blindfold. It was there that I realised just how scary it was, and how brave and trusting the children were that we were serving. Another memory takes me back to the Transkei where my grandfather once lived. There is a campsite called Tshani Village in the Mdumbi community. Local community members have been given the opportunity to take ownership of the management thereof and the campsite has been growing from strength to strength. In addition to the beautiful surroundings, people are so warm and friendly and it's a safe place to hike and cycle on your own. But, my top place, my all-time favourite camping and hiking destination is the Cederberg. I'm a single mom of two amazing young boys whom I adopted as babies. My boys and I go there often, and it never disappoints.
I know that SCOUTS South Africa has many campsites around the country. I look forward to learning more about them. I believe that Scouting's assets are our members, our volunteers and also our campsites. I am keen to see where we can find opportunities for growth in both the sustainability and profitability of our properties, as well as in the retention and growth of our membership.
When I managed ACVV Huis Maudie Kriel, I learnt the value of creating memories and seizing opportunities to invest in other people and helping them grow in their lives.  It's important to leave a legacy that brings hope for a better future. This same philosophy applies to my work at the Signa Group's SETA accredited training facility and eDeaf, where I have been working for the past 4 years. One of the programmes I am proud of is our corporate partnership that enables free learning for people with physical disabilities. Corporate partners pay for the tuition, the learner receives a stipend, and there is a potential for a placement after completion of the course.
When it comes to Scouting and the educational value of its programmes, there is no doubt that the Scout method of experiential learning is very effective.  Learning something in theory cannot be grasped in the same way as experiencing it. Once you get to exercise certain skills, and embody certain values, it is cemented in for life. If we can teach young people values, life skills and give them practical abilities, they will be able to handle any situation that comes their way in life.
I am eager to start my role as CEO for SCOUTS South Africa. I look forward to learning how Scouting operates, and to finding the gaps I can help fill. I have been given a few KPI's which include among others the financial sustainability of the organisation, the growth of our membership and adult volunteers, enhancing our inclusivity even more, and ensuring a continuation of transparent and effective governance.
I want to engage with our members and ensure that all our adult volunteers know that they are valued and that they are in fact our biggest asset. Without them Scouting would not be what it is today.
I also hope to also inspire our young members to embrace Scouting and the values it stands for. Scouts live by sound values that our communities and the world really need right now. So, I encourage all our members to be bold and be proud to stand out by being a Scout. Live it Out!", she concludes with a smile.